Setting up and using FrontPage Server Extensions
Extending a website for use with FPSE (Part 3 of 4)
Preface:
This tutorial will show the extending of a website so that FPSE can be used. A website doesn't have the functionality that FPSE adds without being "extended," even if it is on a server where FPSE has been enabled. Thanks to Joseph Voldeck for providing most of the content in tutorials 2-4 of this set.
Method:
To extend a server, we need to load the "Extend virtual server with FrontPage Server Extensions 2002" webpage. There are two ways to do this, and both will be shown in this tutorial. Immediately below is the method that uses the IIS Manager, and below is the method that uses the Start Menu.
Load IIS from the Administrative tools in the Control Panel by clicking Start -> Administrative Tools -> IIS Manager (or loading the Control Panel, entering the Administrative Tools folder, and double clicking IIS Manager).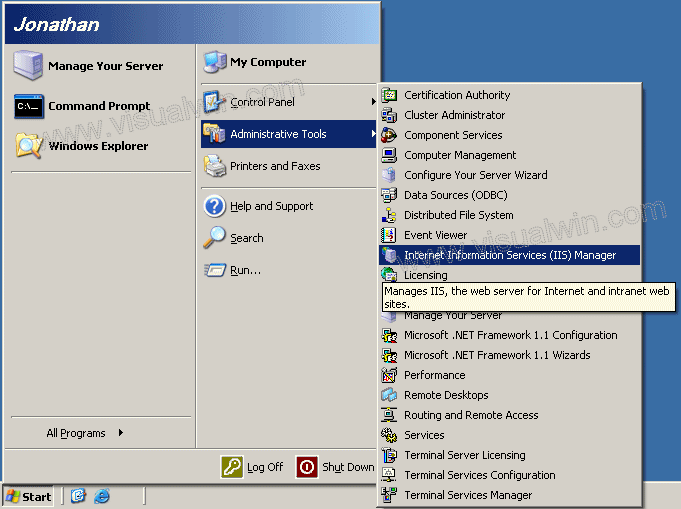 Expand the Computer Name and the "Web Sites" folder, then right click on the website you want to extend, mouse over "All tasks" and click "Configure Server Extensions 2002"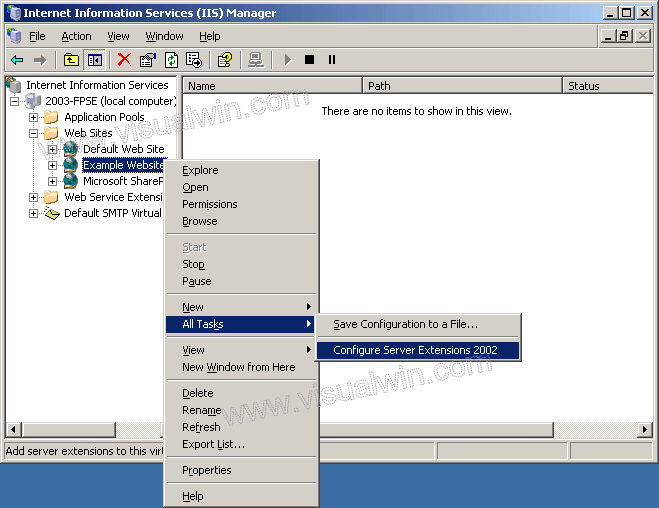 Continue on to "Setting it up," below
Click Start -> Administrative Tools -> Microsoft SharePoint Administrator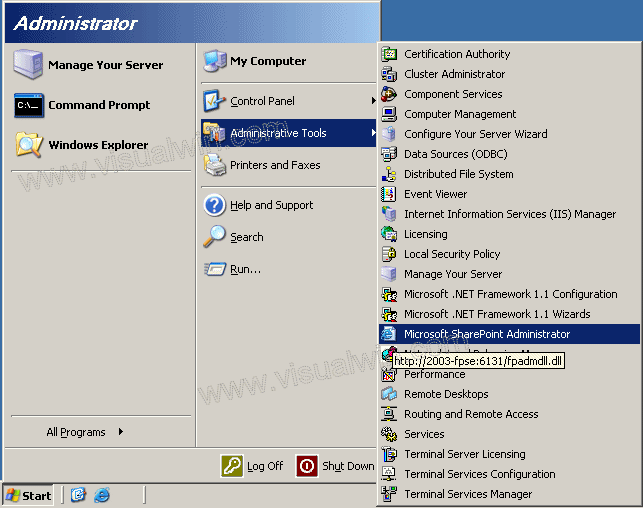 On the right-hand column next to the website you want to extend, click the "Extend" link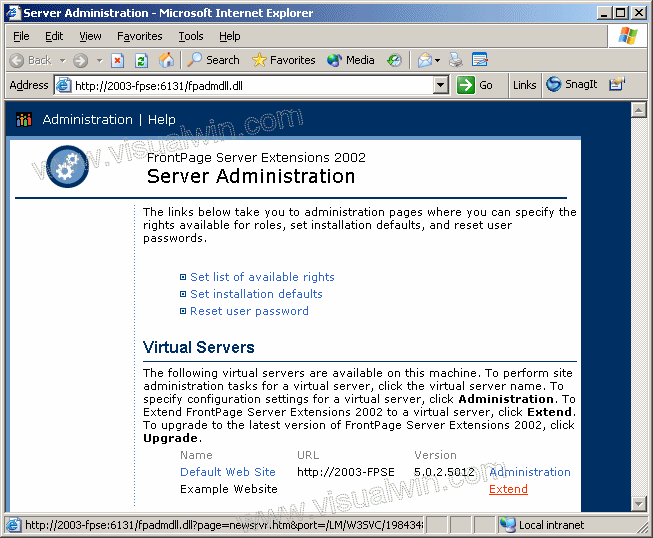 Continue below
---
Setting it up:
Regardless of the method used to get here, you will now be at this page. Click the "Submit" button after optionally specifying an alternate Administrator for the site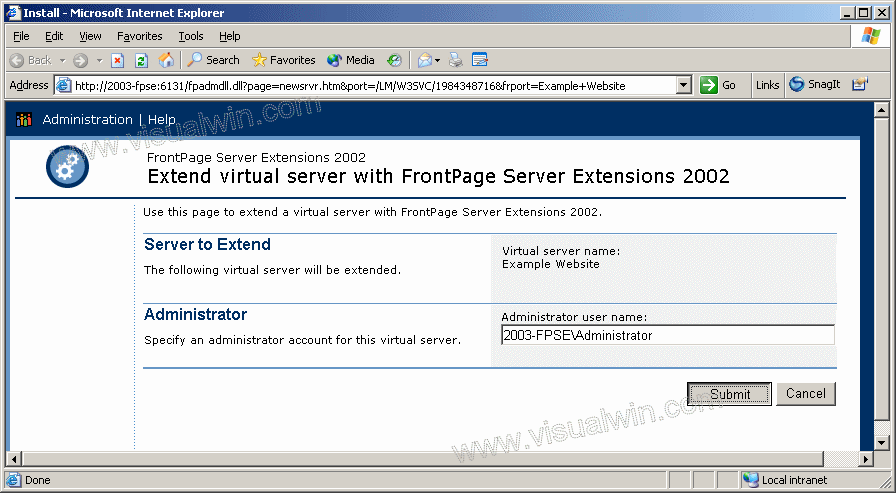 You will see the change being applied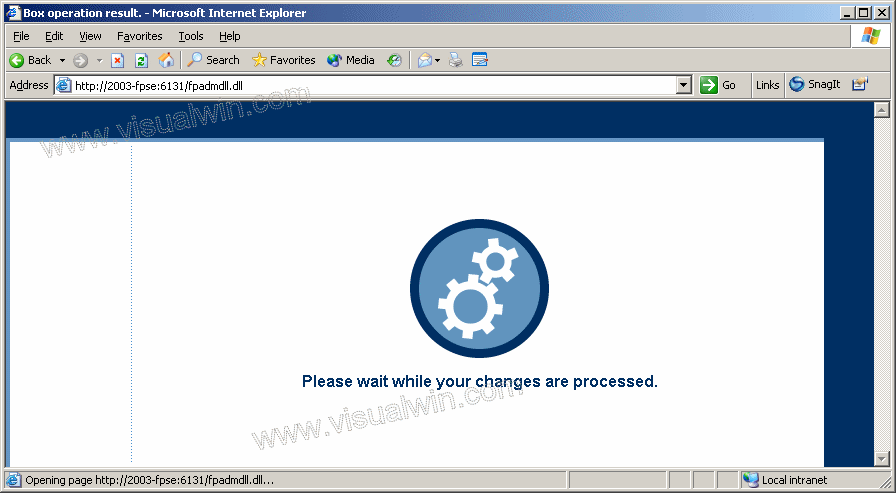 And back to the main site, you will see the FPSE version listed next to the site, which indicates that everything is successful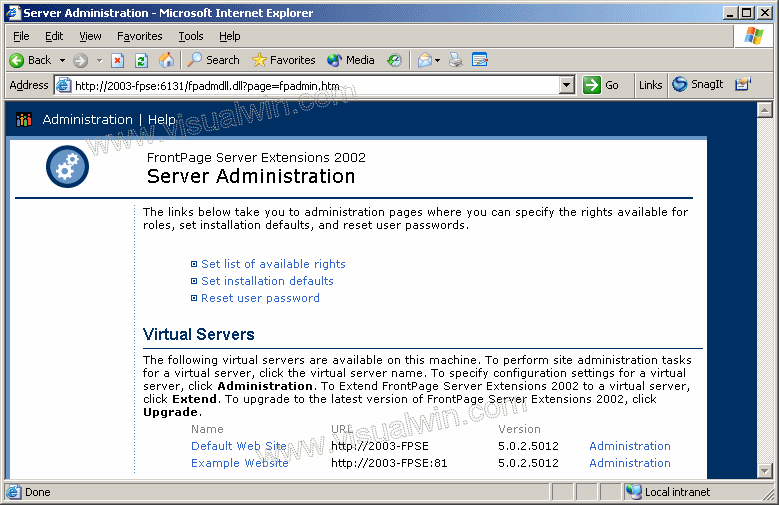 And the site has been extended!
Continue on to part 4 to configure roles and user permissions
Copyright © 2002-2022 Jonathan Maltz. For trademark/copyright information, click here. About me. Main page. Contact me.